Overnight, Mother Nature decided to cover us with a blanket of snow. Not exactly what I was expecting to have when my friend from Texas stopped by for a visit. Good thing I have the coffee brewing and a fire lit. Maybe you can keep her mind off the cold UP morning by getting her chatting.
My darling readers, when I started this journey I was very leery about letting you into my world. I mean, c'mon, how many of you do I personally know? Then, I realized that I have more friends in cyberspace than I do in "real" life. As I writer I spend a lot of time online. Whether I'm on FB promoting my books (or playing games), searching for pictures that excite my muse, chatting with friends, or (hangs head) shopping for wonderful things, you can find me at my computer.
It was after chatting with a friend about our favorite perfume being discontinued that I was directed toward today's guest, Wickd JFay of Wickd Potions and Jewelry by Studio 3B. I visited her site and spent many hours deciding on whether or not I should take a chance on her and her talent. I took a deep breath, chose the scent I wanted most, and ordered. I waited rather impatiently for my scent to arrive. When it did, I fell in love, waited four months, then placed a larger order for 5 more scents. All of which I love dearly
I love her scents so much I'm including one in each of the upcoming Cedar River series books. I'm starting with Bitten by Chocolate in Natural Born Enemies and Haunting Presence is the scent for Book 3. Jfay and I will be collaborating to create signature scent for the new series. (And I cannot begin to tell you how excited I am about this!)
Without further ado, I would like to introduce you to the lady who makes me smell wickedly sexy…Wickd Jfay.
Hello my dear! How are you today?
Hello Gemma! Such a pleasure to get a chance to chat with you! I'm doing great - Excited to get to be here with you and your readers!
I spent a lot of time chatting with you, but can you tell my readers a little bit about you?
Well, on a personal note, I have been married to my dear hubby for 29 years, and have an amazing 21 year old son. We are a very close family. I'm so lucky to have such wonderful men in my life. I have worn many hats in my life, from Beauty Consultant, to Executive Secretary, but in recent years I have traveled a more artistic path.
How did you fall into the wonderful world of scents?
This came about during my 9 years of being an artistic candle maker. I worked with many people, especially authors, to design not only original, artistic designs for them, but also unique scent blends that would become their signature scent. They would take their candles with them to book signings and conventions and their fans began falling in love with the scents and were requesting them in wearable fragrances. After many requests I began to transition some of the aromas into wearable perfumes. I ended up falling in love with doing perfumery, and have decided to create perfumes full time now. I really enjoy decorating the potion bottles that they come in as well as the potion necklaces -- which is a very fun and fashionable way to take your perfume with you on the go!
Do you have a favorite scent? Or is that like asking an author about a favorite character?
Hahaha! Yeah, kind of like that! I have so many that I enjoy wearing -- and I of course love them all. But I have to say that the Sinfully Delicious Cupcake is my favorite, in that I really enjoy wearing it in the evenings. After the day is done and it's time to relax -- it just makes me feel happy. If that makes any sense to you and your readers ; )
But for me, different scents evoke different emotions and feelings. Some of my aromas are sassy and spicy, some are fun and flirty, there are dark and dramatic ones as well, so there's just about something for everybody and for every mood you're in ; )
Will you tell us about one of those scents that sounded good until you created it and it just didn't work?
What?? A Jfay scent that didn't work??? Hahaha!! Well, a few months ago I would have said that's never happened -- I'm not arrogant much? Haha!! But I do actually do many "sniff" tests before I even begin blending to see what I think will go together to create exactly what I have in mind -- BUT...... You did catch me -- I had one -- one and only one batch that I did have to abandon....... The aroma actually was beautiful, but there was something about it that was just hard on the nose. So, it was back to the drawing board, so to speak ; ) I have a very sensitive nose myself, so the aromas I design have to pass a very critical testing period in which I test the fragrance before releasing it to the world.
Who comes up with the scent names? I love them because each name is different and fun.
That's a very good question! Naming the fragrances is just as important to me as the blend. And a very fun part of the process. The names evolve in many different ways. The name may reflect the scent itself, or a complete theme involving what the scent is about. I usually have brainstorming sessions with either my clients or my family -- my guys are very creative as well ; )
Where on earth do you find such gorgeous models for your website? It just doesn't seem right that a woman as gorgeous and talented as you has so many gorgeous friends. (grin)
OH -- Well, thank you dah'ling!! You're too kind! But actually, many of the models are family ; ) I'm blessed with a bevvy of beauties for nieces who have graciously modeled for me. We have such fun with a lot of these shoots. Getting their costumes and makeup ready, the sets, etc. My son has modeled for me a few times, and is also the cover model for my brother, Ted Anthony Roberts' soon to be released Pirate Novel (got that plug in there ; ). And one of my favorite models, Courtney Cupcake, is actually a client who became a friend and then model. People that I work with sometimes model their goodies (that doesn't sound right ; ), and sometimes clients have their own models, so that's a very fun part of everything as well.

What does a day in your life look like?
Hmmmm..... Well, it depends on what's on the menu for the day ; ) Again, with this business I wear many different hats -- from creating the perfumes, to designing and decorating the bottles, doing photo shoots, both of the product and model shoots, working on my website (which I am in the process of updating -- that's taking forever ; ), networking, doing the boring stuffs like accounting (when I can make myself ; ), then I enjoy spending time in the evenings with my guys, hanging out cooking dinner together, and most likely dancing in the kitchen while doing so ; )
I ordered one of the last candles you sold. Will you ever step back into candles?
Well, I'm glad you got one of my last candles! A lot of people were not very happy about my decision to leave candle making behind..... And I've been asked that question quite a bit, but for now, I would have to say the answer is no. I've thought about it and perhaps even doing it seasonally for the holidays, but I really think that is a part of my past at this point. I'm really enjoying moving forward with the perfumery and all the new things that have come my way during this part of my journey.
Can you tell my readers how you decided to add jewelry to your list of offerings?
When I first began looking into making the perfumes, I knew I wanted to do my bottling differently than what you find every day and everywhere. So I immediately decided on Potion Bottles (Which, I call my perfumes Wick'd Potions) and came across the idea for making Potion Bottle Necklaces -- I knew that was exactly what I wanted to do. So from the get-go, perfume jewelry was an instant item available. I then began to make necklaces that were not perfume necklaces since I was already making the perfume jewelry, and found some really cute charms that I wanted to wear myself ; ) Then people began requesting earrings to match either their necklaces or perfume necklaces, so that's a new project that I've begun. I do not have many earrings up on my website yet, but you can always contact me and any charm you see on the Studio 3B website I can make into earrings or a necklace for you. I call myself the Burger King of Perfumery/Jewelry. You can order anything you find on my site in any design you want. So, let's say you want the So Wicked perfume, but like the bottle design for the Strawberry Strip Tease perfume, no problem and no extra cost -- I make everything to order, so you know when you order it, it is made just for you ; )
What are you working on now? Anything new and delightful in the laboratory?
Yes! There's always something new happening around the Wick'd Studio! But actually, right now I'm getting in gear for the holidays and will be unleashing a new product line called VIXEN xxx. It's a super sexy and intoxicating perfume blend with Rich Merlot, Sumptuous Fruits, such as Pomegranate and Cherry, and super Sexy Spices ; ) That should get Santa's sparks going! But it's being bottled with really cute Red Lip Charms -- reminiscent of the Rocky Horror Picture Show lips, so they're really cute ; ) Which, as with all the Wick'd Potion Perfumes, VIXEN xxx will be available in decorated Potion Bottles, Potion Necklaces and now also in Spray Bottles (another new product ; ). I'm also making earrings to match -- so a really great gift idea -- speaking of which, I am putting together some cute stocking gift sets for gift giving!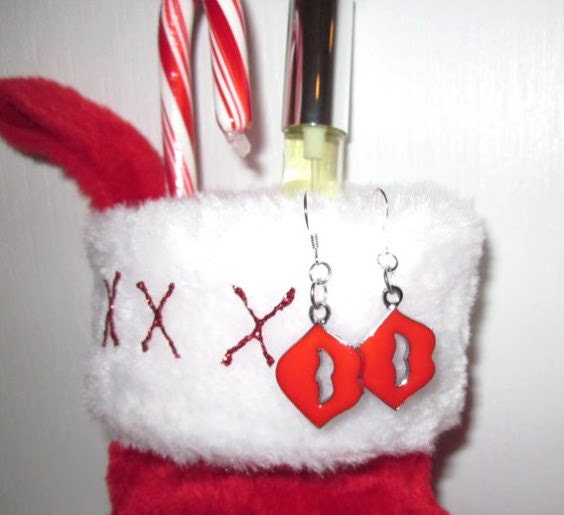 So, if any of you are looking for something different, and like a walk on the wild side, stop by and visit me and my little perfumery online at http://www.studio3bonline.com. I'm also on Etsy: http://www.etsy.com/shop/studio3b. And of course I'm usually around Facebook when I get a break here and there ; ) You can find me there as Wickd Jfay and also as Wickd Studio3B.
I will let you get back to work so you can keep the world smelling wicked. Thank you for stopping by and spending the day with us! You are one of my favorite people and I really want to share you with the world.
Well, thank you so very much Gemma! And you are definitely one of my favorite people! You have become a dear friend of mine and I so appreciate all your support. I'm really looking forward to collaborating with you soon on something killer for your new series!
xoxo
*All photos belong to the wicked lady herself. I've used them with her permission. Please respect the fact these belong with Wicked Jfay*