Let me start this interview off by saying I met Saranna through my friend, Virginia Nelson. Her sense of humor is dark, twisted, and hiliarious. I was intrigued so I purchased one of her books. It has been a loooooong time since I read a book where I laughed out loud at the characters, cursed at them, and felt that much emotion all within two covers. Okay, now I'm sounding like an obsessed fan:) Without further adieu, I give you Saranna DeWylde.
Tell us a little bit about yourself- I started writing after my 8th birthday party where we watched The Exorcist. It scared the crap out of me, but I decided that I wanted to do that, I wanted something I created to elicit all of those emotions in people. I began reading romances at a young age as well, so for the longest time I couldn't decide where my heart lay. Then I worked as a corrections officer and decided that I wanted to give the world more happily ever afters.
My family is very supportive of my writing. My husband worked two jobs to support our family so I could stay home and pursue my dreams. My kids empathize with Jack Torrance in The Shining because his wife just wouldn't leave him alone to write.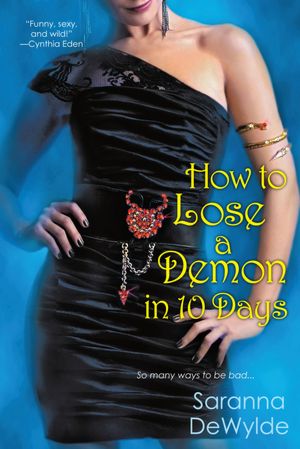 Grace does. She's got more demon than she can saddle. In fact, she's got a sinfully sexy Crown Prince of Hell named Caspian. She's also got ten days to get rid of him or Bad Things shall ensue. See, her Russian mobster ex-boyfriend didn't take kindly to her smutty Mephistophelean contract. It's not that she's conspiring with fiends; that was his idea. It's that she's conspiring against him with outrageous devilry that runs the gamut from embarrassing to a dead hooker turned dominatrix demon gunning for his soul.
One should never trust demons, let alone shag them. They don't have hearts. Yet Grace is buying hers some slightly tarnished armor and hoping that once he's been shoveled into it, kicking and screaming, he'll find it's just his size. This damsel in distress needs a dark knight for a Happily Ever After.
A little bit of both, but mostly a panster. I have a few notecards I keep by my desk to scribble this and that, but otherwise, I like to discover what's going to happen along with the characters.
Which Goddess best defines you?
Me? *laughs* My nickname for the longest time has been The Amazon Goddess of Doom or The AG of D.
Mo's Bacon Milk bars. Or anything from Vosges. It's an addiction.
Coffee, tea, soda, or water?
I'm a tea freak, I collect tea. But I do love my water.
Do you have to set the mood to write? If so, how?
No. I just sit down and work.
Do you have a favorite character? Why?
Susan Kay's interpretation of the Phantom of the Opera. He's brilliant, tortured, very complex. Why? I don't know. I just love heroes that are scarred inside and out. Maybe because it speaks to the strength of the power of love and redemption.
(I agree with you. Some authors shy away from imperfect characters and I adore the fact that you don't.)
Morning, afternoon, evening, or late night writer?
All. However long it takes me to hit my word count. Although, I am kind of a night owl.
If you weren't writing, what would be your occupation?
Psychologist or law enforcement.
You can find Saranna and her books in all of these lovely places:
You can buy her books here: